Download a Guide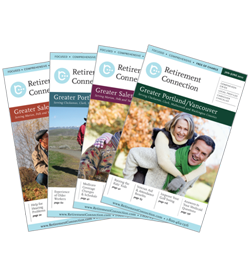 Resources
Browse by Region
---
Keeping You Current
Be a Santa to a Senior
(SOUTHERN OREGON) We at Home Instead would like to invite you to share the holiday spirit with the Be a Santa to a Senor (BASTAS) service program!
Free Christmas Concert at St. Andrews Memory Care- Dec 4
(PORTLAND AREA) Ms. Petroli?nait? will perform a wide range of operatic and holiday classics. They will round out the program with Portland's hottest lady quartet, The Julians.
Educational Workshop- Dec 4
(MEDFORD AREA) Educational workshop for those caring for a loved one with Alzheimer's disease or other dementias. Capturing Life's Journey, Managing Difficult Behaviors, Taking Care of Yourself.
Holiday Bazaar- Dec 7
(MEDFORD AREA) Booth space available for $25.00 for a 10x10 foot space (6 foot table with 2 chairs provided). If you are intested in being a vendor, contact Wilma Day @ 541-773-7718 x 220 or email wlday@avamere.com. Open to the publice and event is FREE! 
Family Caregiver Seminar-Dec 9
How do you view transitions and change? Can you change another? What would control look like during transitions? Explore these questions through education and discussion.
Professional Networking
December 4, 8am
MSN Annual Awards Breakfast
Location: The Multnomah Athletic Club
1849 SW Salmon Street- Portland
December 5, 9am-2pm
Mercy Foundation's Festival of Trees
Location: 7 Feathers Casino & Resort
146 Chief Miwaleta Ln - Canyonville, OR

December 5, 11:30am - 1:30pm
OMCMG Monthly Meeting
The Oregon Medical Association, (OMA)
11740 SW 68th Pkwy #100- Portland
-----------------------------------
Have An Upcoming Event? 
Submit your information using our easy to use form online
About RetirementConnection.com
The official website for Retirement Connection Guide- designed for Boomers, Seniors, Caregivers & Providers to search more than 150+ topics of information and connect you with a quick and complete reference of providers and services. Our educational articles, business profiles, event postings, and help pages are available to offer ongoing support. The printed Retirement Connection Guide can be picked up at many convenient locations or ordered from this website. The Portland/Vancouver edition covers Multnomah, Clackamas, Washington and Clark Counties. The salem edition covers Marion, Polk and Yamhill Counties.