When:
September 21, 2020 @ 12:00 pm – 1:30 pm
2020-09-21T12:00:00-07:00
2020-09-21T13:30:00-07:00
Contact:
Alise Liepnieks
503-782-4868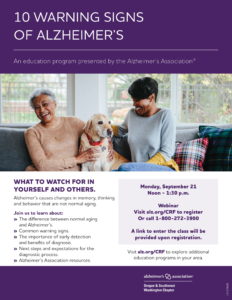 WHAT TO WATCH FOR IN
YOURSELF AND OTHERS.
Alzheimer's causes changes in memory, thinking
and behavior that are not normal aging.
Join us to learn about:
» The difference between normal aging
and Alzheimer's.
» Common warning signs.
» The importance of early detection
and benefits of diagnosis.
» Next steps and expectations for the
diagnostic process.
» Alzheimer's Association resources.
Call 1-800-272-3900 or visit alz.org/CRF to register.