When:
2021-11-09T00:00:00-08:00
2021-11-10T00:00:00-08:00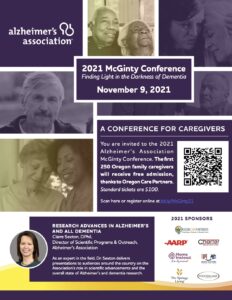 2021 McGinty Conference: Finding Light in the Darkness of Dementia
November 9, 2021
You are invited to the 2021 Alzheimer's Ass o c i at i o n McGinty Conference. The first 250 Oregon family caregivers will receive free admission, thanks to Oregon Care Partners. Standard tickets are $100.
Register online at bit.ly/McGinty21
RESEARCH ADVANCES IN ALZHEIMER'S AND ALL DEMENTIA
Claire Sexton, DPhil, Director of Scientific Programs & Outreach, Alzheimer's Association
– As an expert in the field, Dr. Sexton delivers presentations to audiences around the country on the Association's role in scientific advancements and the overall state of Alzheimer's and dementia research.