When:
June 9, 2021 @ 6:30 pm
2021-06-09T18:30:00-07:00
2021-06-09T18:45:00-07:00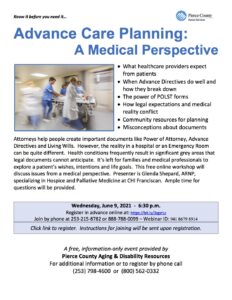 Attorneys help people create important documents like Power of Attorney, Advance Directives and Living Wills. However, the reality in a hospital or an Emergency Room can be quite different. Health conditions frequently result in significant grey areas that legal documents cannot anticipate. It's left for families and medical professionals to explore a patient's wishes, intentions and life goals. This free online workshop will discuss issues from a medical perspective. Presenter is Glenda Shepard, ARNP, specializing in Hospice and Palliative Medicine at CHI Franciscan. Ample time for questions will be provided.
This free presentation will be held online once in June:
· June 9 at 6:30 p.m.  Register online at https://bit.ly/3sgsrLc 
Join by phone at 253-215-8782 or 888-788-0099 – Webinar ID: 941 8679 8914