When:
October 22, 2020 @ 2:00 pm – 4:00 pm
2020-10-22T14:00:00-07:00
2020-10-22T16:00:00-07:00
Where:
Online
https://us02web.zoom.us/webinar/register/WN_69OibV10Qbep5JJVXSyRIg
Contact:
Life Transitions - End of Life Coalition of SW Washington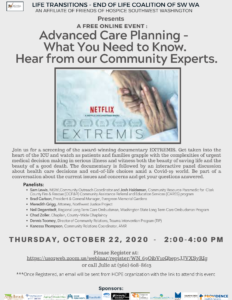 Join us for a screening of the award-winning documentary EXTREMIS. Get taken into the
heart of the ICU and watch as patients and families grapple with the complexities of urgent
medical decision making in serious illness and witness both the beauty of saving life and the
beauty of a good death. The documentary is followed by an interactive panel discussion
about health care decisions and end-of-life choices amid a Covid-19 world. Be part of a
conversation about the current issues and concerns and get your questions answered.
Panelists:
Sam Lewis, MSW,Community Outreach Coordinator and Josh Haldeman, Community Resource Paramedic for Clark County Fire & Rescue (CCF&R) CommunityAssistanceReferral and EducationServices (CARES) program
Brad Carlson, President & General Manager, Evergreen Memorial Gardens
Meredith Grigg, Attorney, Northwest Justice Project
Neil Degerstedt, Regional Long TermCare Ombudsman, WashingtonState Long Term Care OmbudsmanProgram
Chad Zoller, Chaplain, County-Wide Chaplaincy
Dennis Toomey, Director of Communit yRelations, Trauma Intervention Program(TIP)
Kanessa Thompson, CommunityRelations Coordinator,AMR
Register at: https://us02web.zoom.us/webinar/register/WN_69OibV10Qbep5JJVXSyRIg or call Julie at (360) 608-8613