When:
May 20, 2020 @ 12:30 pm
2020-05-20T12:30:00-07:00
2020-05-20T12:45:00-07:00
Where:
SeaTac Community Center
13735—24th Ave. S.
Seatac
WA 98168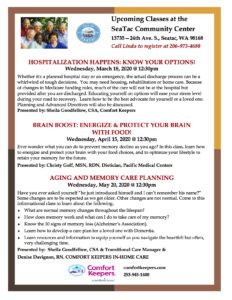 Have you ever asked yourself "he just introduced himself and I can't remember his name?" Some changes are to be expected as we get older. Other changes are not normal. Come to this informational class to learn about the following:
– What are normal memory changes throughout the lifespan?
– How does memory work and what can I do to take care of my memory?
– Know the 10 signs of memory loss (Alzheimer's Association).
– Learn how to develop a care plan for a loved one with Dementia.
– Learn resources and information to equip yourself as you navigate the heartfelt but often, very challenging time.
Presented by: Sheila Goodfellow, CSA & Transitional Care Manager &
Denise Davignon, RN, COMFORT KEEPERS IN-HOME CARE