When:
February 11, 2021 @ 6:30 pm – 7:30 pm
2021-02-11T18:30:00-08:00
2021-02-11T19:30:00-08:00
Contact:
Pierce County Aging & Disability Resources
(253) 798-4600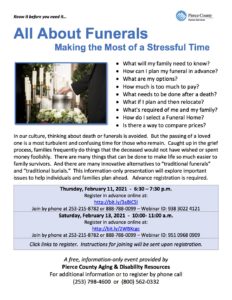 In our culture, thinking about death or funerals is avoided. But the passing of a loved one is a most turbulent and confusing time for those who remain. Caught up in the grief process, families frequently do things that the deceased would not have wished or spent money foolishly. There are many things that can be done to make life so much easier to family survivors. And there are many innovative alternatives to "traditional funerals" and "traditional burials." This information-only presentation will explore important issues to help individuals and families plan ahead. Advance registration is required.
Register in advance online at: http://bit.ly/3aBiC5l
Join by phone at 253-215-8782 or 888-788-0099 – Webinar ID: 938 3022 4121