When:
2017-06-03T00:00:00-07:00
2017-06-04T00:00:00-07:00
Where:
Steilacoom Library
2950 Steilacoom Blvd SW
Steilacoom, WA 98388
USA

Contact:
Heather Little
253-719-3700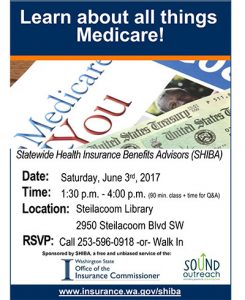 Let SHIBA assist you with your Medicare questions!
Do you need help with your Medicare questions? Call the Statewide Health Insurance Benefits Advisors (SHIBA) today. SHIBA is a free, unbiased and confidential counseling service of the Washington State Office of the Insurance Commissioner (OIC). We're a statewide network of trained volunteers who assist and advocate for consumers about Medicare.
Are you turning age 65 soon? Want to know more about Medicare? Join SHIBA and Sound Outreach at your local Pierce County Library for our All Things Medicare class! This FREE class covers Medicare Parts A and B, Medicare supplement and Medicare Advantage plans, Part D prescription drug plans and more.
Classes are offered monthly at Pierce County libraries from 1 p.m. to 3:30 p.m. Walk-ins welcome. Or go to www.soundoutreach.org/events – www.insurance.wa.gov/shiba Or call a SHIBA counselor anytime at 253-596-0918 to discuss your personal Medicare situation.