When:
February 9, 2017 @ 10:00 am – 3:00 pm
2017-02-09T10:00:00-08:00
2017-02-09T15:00:00-08:00
Where:
Washington State Capitol
215 Sid Snyder Ave SW
Olympia, WA 98501
USA

Contact:
Alzheimer's Association / Peter Newbould
206-363-5500 / 206-529-3867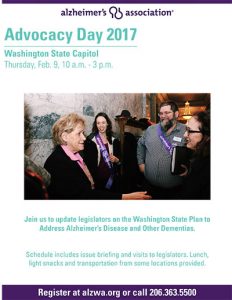 Over 100,000 Washingtonians are living with Alzheimer's disease with more than 300,000 caregivers providing their care. The Alzheimer's Association, Washington State Chapter and Alzheimer's advocates from across the state will visit representatives in Olympia again in 2017 to discuss the importance of continued support for those facing the disease. Governor Jay Inslee knows the struggles families face and the importance of implementing a plan now:
"Every part of our state is touched by dementia, including Alzheimer's disease. The impact is felt by individuals and families who bear the greatest emotional and financial responsibility, by our employers and economy, by health care systems striving to meet complex needs and by local communities and state resources."
The plan is led by the Dementia Action Collaborative (DAC), a group of partners committed to preparing Washington for the growth of the dementia population. Priorities for the DAC include creating a "roadmap" to guide caregivers, education for providers and ensure greater access to services and support.
Registration is open for the Washington State Chapter Advocacy Day Thursday, Feb. 9, 2017 from 10 a.m. – 3 p.m. On that day we will be updating legislators on the important work of implementing the Washington State Plan to Address Alzheimer's Disease and Other Dementias. Schedule includes an issue briefing followed by visits to legislators. Lunch, light snacks and transportation from some locations provided.
For questions about Advocacy Day contact Peter Newbould: pnewbould@alz.org or 206-529-3867 or call 206-363-5500.