When:
November 2, 2020 @ 8:30 am – 4:00 pm
2020-11-02T08:30:00-08:00
2020-11-02T16:00:00-08:00
Contact:
Alise Liepnieks
503-782-4868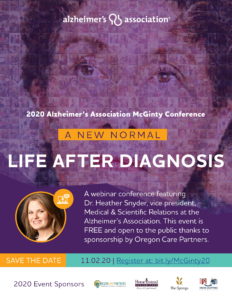 The 2020 Alzheimer's Association McGinty Conference—Adjusting to a New Normal: Life After Diagnosis—is Oregon's leading research and education event, highlighting Alzheimer's and other dementias.
Family and professional caregivers are invited to attend the 2020 virtual webinar conference to participate in educational workshops and learn more about local resources.
Presentations this year will focus on: establishing a caregiver support system, brainstorming creative ways to engage with individuals with memory loss, and planning for legal and financial issues. Participants will also hear an inspirational first-person account of what it's like to live with an Alzheimer's diagnosis.
Dr. Heather Snyder, vice president, Medical & Scientific Relations at the Alzheimer's Association, will share the latest and greatest in Alzheimer's and dementia-related research.
This virtual event is free and open to the public, thanks to sponsorship by Oregon Care Partners.
Visit http://alz.org/orswwa/mcginty to register for free.