When:
October 1, 2019 @ 4:30 pm – 5:30 pm
2019-10-01T16:30:00-07:00
2019-10-01T17:30:00-07:00
Where:
CDM Caregiving Services at McKibbin Center
2300 NE Andresen
Contact:
Claire Marie Wisner
1-800-272-3900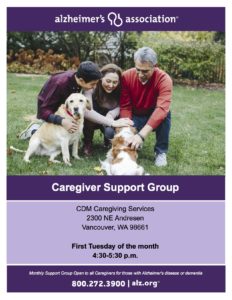 Alzheimer's Association caregiver support groups are conducted by trained facilitators and are a safe place for caregivers, family and friends of persons with dementia. These groups help caregivers develop a support system, allow members to exchange practical information on caregiving challenges and possible solutions, and talk through issues and ways of coping, as well as share feelings, needs and concerns. They are also a place to
learn about outside community resources.