When:
March 12, 2019 @ 6:00 pm – 7:30 pm
2019-03-12T18:00:00-07:00
2019-03-12T19:30:00-07:00
Where:
Mill Plain City Bible Church
14311 SE Mill Plain Blvd. Vancouver
WA 98684
Contact:
Claire Marie Wisner
1-800-272-3900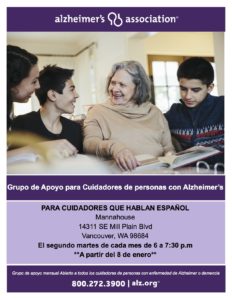 Los Grupos de Apoyo para Cuidadores de la Asociación de Alzheimer crean un entorno o comunidad seguro, confidencial y de apoyo, y una oportunidad para que los participantes desarrollen relaciones mutuas y sociales informales. También educan e informan a los participantes sobre la demencia y les ayudan a desarrollar métodos y habilidades para resolver problemas.
Alzheimer's Association Caregiver Support Groups create a safe, confidential, supportive environment or community and a chance for participants to develop informal mutual support and social relationships. They also educate and inform participants about dementia and help participants develop methods and skills to solve problems.