When:
January 16, 2019 @ 12:30 pm – 1:30 pm
2019-01-16T12:30:00-08:00
2019-01-16T13:30:00-08:00
Where:
Albany Senior Center
489 NE Water Ave
Albany
OR 97321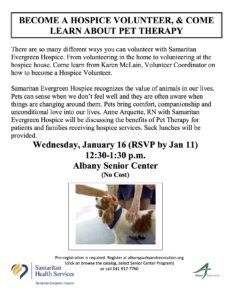 There are so many different ways you can volunteer with Samaritan Evergreen Hospice. From volunteering in the home to volunteering at the hospice house. Come learn from Karen McLain, Volunteer Coordinator on how to become a Hospice Volunteer.
Samaritan Evergreen Hospice recognizes the value of animals in our lives. Pets can sense when we don't feel well and they are often aware when things are changing around them. Pets bring comfort, companionship and unconditional love into our lives. Anne Arquette, RN with Samaritan Evergreen Hospice will be discussing the benefits of Pet Therapy for patients and families receiving hospice services. Sack lunches will be provided.
Wednesday, January 16 (RSVP by Jan 11)
12:30-1:30 p.m.
Albany Senior Center
(No Cost)
Pre-registration is required. Register at albanyparksandrecreation.org
(click on browse the catalog, select Senior Center Program) or call 541-917-7760