When:
2020-03-18T00:00:00-07:00
2020-03-19T00:00:00-07:00
Where:
Farmington Square Beaverton
14420 SW Farmington Rd
Beaverton
OR 97005 

Contact:
Elaine Hanrahan
503-433-2021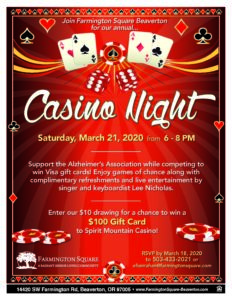 Join Farmington Square Beaverton for our annual…
Casino Night
Saturday, March 21, 2020
from 6 – 8 PM
Support the Alzheimer's Association while competing to win Visa gift cards! Enjoy games of chance along with complimentary refreshments and live entertainment by singer and keyboardist Lee Nicholas.
Enter our $10 drawing for a chance to win a
$100 Gift Card
to Spirit Mountain Casino!
RSVP by March 18, 2020
to 503-433-2021 or
ehanrahan@farmingtonsquare.com
Farmington Square Beaverton, 14420 SW Farmington Rd, Beaverton, OR 97005
www.FarmingtonSquare-Beaverton.com