When:
2019-07-20T00:00:00-07:00
2019-07-21T00:00:00-07:00
Where:
Redwood Heights
4050 12th Street Cutoff SE Salem
OR. 97302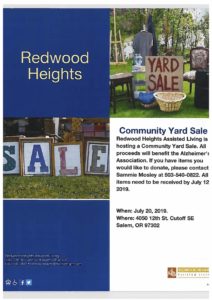 Community Yard Sale
Redwood Heights Assisted Living is hosting a community yard sale. All proceeds will benefit the Alzheimer's Association. If you have items you would like to donate, please contact Sammie Mosley at 503-540-0822. All items need to be received by July 12th, 2019.