When:
November 18, 2020 @ 9:00 am – 10:00 am
2020-11-18T09:00:00-08:00
2020-11-18T10:00:00-08:00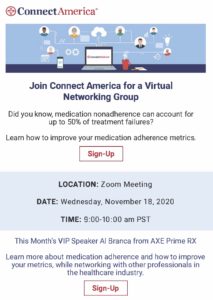 Join Connect America for a Virtual Networking Group
Did you know, medication nonadherence can account for up to 50% of treatment failures
Learn how to improve your medication adherence metrics.
This Month's VIP Speaker Al Branca from AXE Prime RX. Learn more about medication adherence and how to improve your metrics, while networking with other professionals in the healthcare industry.