When:
February 15, 2020 @ 2:00 pm
2020-02-15T14:00:00-08:00
2020-02-15T14:15:00-08:00
Where:
Fieldstone Cornell Landing
9860 NW Cornell Rd
Portland
OR 97229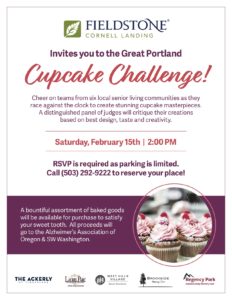 Fieldstone Cornell Landing invites you to the great Cupcake Challenge!
Cheer on teams from six local senior living communities as they race against the clock to create stunning
cupcake masterpieces. A distinguished panel of judges will critique their creations based on best design, taste and creativity.
The judges will be…
Beaverton Mayor Denny Doyle
Doug Ellison, Co-Founder & CEO Fieldstone Communities
Dana Kilgus, Portland Walk Manager, Alzheimer's Association Oregon & SW Washington
A bountiful assortment of baked goods will be available for purchase to satisfy your sweet tooth. All proceeds will
go to the Alzheimer's Association of Oregon & SW Washington.
RSVP is required as parking is limited. Call (503) 292-9222 to reserve your place!