When:
March 24, 2020 @ 6:00 pm – 7:00 pm
2020-03-24T18:00:00-07:00
2020-03-24T19:00:00-07:00
Where:
Pioneer Village
805 N. 5th St.
Jacksonville
OR 97530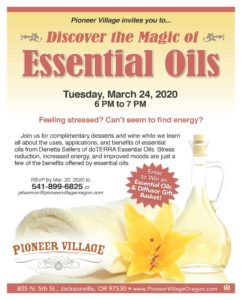 Pioneer Village invites you to…
Discover the Magic of Essential Oils
Tuesday, March 24, 2020
6 PM to 7 PM
Feeling stressed? Can't seem to find energy?
Join us for complimentary desserts and wine while we learn all about the uses, applications, and benefits of essential oils from Denette Sellers of doTERRA Essential Oils. Stress reduction, increased energy, and improved moods are just a few of the benefits offered by essential oils.
Enter to Win an Essential Oils & Diffusor Gift Basket!
RSVP by Mar. 20, 2020 to
541-899-6825 or
jshannon@pioneervillageoregon.com
Pioneer Village, 805 N. 5th St., Jacksonville, OR 97530 • www.PioneerVillageOregon.com