When:
2021-04-08T18:30:00-07:00
2021-04-08T18:45:00-07:00
Contact:
Pierce County Aging & Disability Resource Center
(253) 798-4600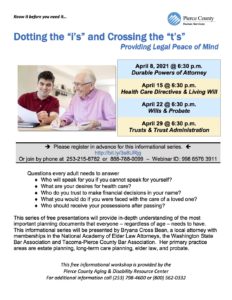 April 8, 2021 @ 6:30 p.m.
Durable Powers of Attorney
April 15 @ 6:30 p.m.
Health Care Directives & Living Will

April 22 @ 6:30 p.m.
Wills & Probate
April 29 @ 6:30 p.m.
Trusts & Trust Administration
Questions every adult needs to answer
– Who will speak for you if you cannot speak for yourself?
– What are your desires for health care?
– Who do you trust to make financial decisions in your name?
– What you would do if you were faced with the care of a loved one?
– Who should receive your possessions after passing?
This series of free presentations will provide in-depth understanding of the most important planning documents that everyone – regardless of age – needs to have. This informational series will be presented by Bryana Cross Bean, a local attorney with memberships in the National Academy of Elder Law Attorneys, the Washington State Bar Association and Tacoma-Pierce County Bar Association. Her primary practice areas are estate planning, long-term care planning, elder law, and probate.