When:
February 6, 2019 @ 2:00 pm – 4:00 pm
2019-02-06T14:00:00-08:00
2019-02-06T16:00:00-08:00
Where:
Gresham Manor
2895 SE Powell Valley Road
Gresham OR 97080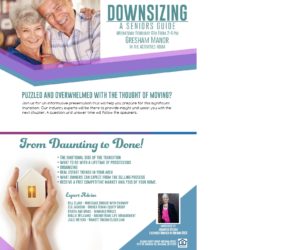 PUZZLED AND OVERWHELMED WITH THE THOUGHT OF MOVING?
Join us for an informative presentation that will help you prepare for this significant
transition. Our industry experts will be there to provide insight and assist you with the
next chapter. A question and answer time will follow the speakers.
The emotional side of the transition
• what to do with a lifetime of possessions
• organizing
• real estate trends in your area
• what owners can expect from the selling process
• receive a free competitive market analysis of your home.
Expert Advise:
Bill Clark – Mortgage Broker with Fairway
Cec Jackson – Broker Remax Equity Group
Krista and Marie – Managed Moves
Mollie Williams – Anchor Home Life Management
Julie Meyers – Rowett Oregon Elder Law