When:
2020-04-12T00:00:00-07:00
2020-04-13T00:00:00-07:00
Where:
Evergreen Court
451 O'Connell St.
North Bend
OR 97459

Contact:
Teri Stamsos
541-725-2016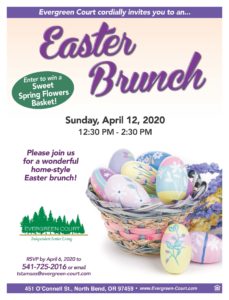 Evergreen Court cordially invites you to an…
Easter Brunch!
Sunday, April 12, 2020
12:30 PM – 2:30 PM
Please join us for a wonderful home-style Easter brunch!
Enter to win a Sweet Spring Flowers Basket!
RSVP by April 6, 2020 to
541-725-2016 or email
tstamsos@evergreen-court.com
Evergreen Court, 451 O'Connell St., North Bend, OR 97459 • www.Evergreen-Court.com