When:
2019-10-06T00:00:00-07:00
2019-10-07T00:00:00-07:00
Where:
Redmond Municipal Campus
15670 NE 85th St.
Redmond
WA 98042

Contact:
Andrea Simmonds
1-800-272-3900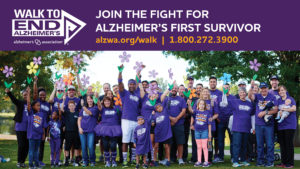 The Walk to End Alzheimer's is the world's largest event to raise funds and awareness for Alzheimer's disease. Funds raised for the event are used for Alzheimer's research and to provide care and support services to local families impacted by the disease.
This inspiring event calls on participants of all ages and abilities to join the fight against the disease!
When you participate in Walk, you're fueling our mission and raising the level of Alzheimer's awareness in your community.
Join us and lead the way to Alzheimer's first survivor. Together, we can end Alzheimer's disease!
This is a family and pet friendly event, and the walk route is fully accessible. It is free to attend; however, participants who raises $100 or more will receive a Walk to End Alzheimer's t-shirt. Visit alzwa.org/walk to learn more.