When:
October 3, 2020 @ 9:00 am – 4:00 pm
2020-10-03T09:00:00-07:00
2020-10-03T16:00:00-07:00
Where:
Elfin Services
7305 NE Fourth Plain Blvd
Vancouver
WA 98662

Contact:
Elfin Services
360-883-3569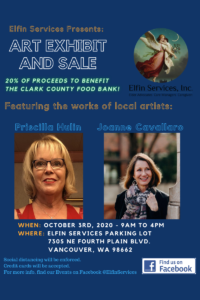 Elfin Services is hosting an Art Exhibit and Sale to benefit the Clark County Food Bank. 20% of proceeds will be donated to the Clark County Food Bank. Pieces will be displayed and on sale in the parking lot of Elfin Services.
The show will feature pieces from local artists Priscilla Hulin and Joanne Cavallaro.
Priscilla Hulin has always been interested in Art as a young child being raised in Portland, Oregon. Her teachers used to keep her art work for other students to use for guidelines. Winning many awards at a young age for best of show in the Artist Category. Now traveling the world she has her Art in Guatemala and many cities in the United States. She has completed a series of Koi paintings, "Alice in Wonderland" and children's paintings from around the world. Abstracts and landscapes are also a part of her talents. Now commission pieces for people's pets have entered her world. Many local friends and clients have asked her to paint their companions. It is a huge compliment to see the joyous look on the owners face when they receive their paintings! Using Acrylics as a base for her work and sometimes wood she is thrilled at the opportunity to have shown her work at several venues:
The Aloft Hotel
Magnolias Wine Bar
Ginger Pop Restaurant
Umpqua Bank
Madhouse Coffee
Art at the Cave Gallery
Priscilla can be reached at:
Email: Priscillah1@hotmail.com
Instagram – @hulinpriscilla
See some of her art here: https://share.icloud.com/photos/0yicmS3Hq_uGJz8CiOeqacINQ
*Commission pieces are available upon requests.
Joanne Cavallaro
She lived in the Texas Hill country, right outside of Austin, for nineteen years. Circumstances recently brought her to the Pacific Northwest and the change of pace and climate could not be better!
She has always been an artist, but discovered her passion for acrylic pouring two years ago, and had never been so inspired by an art medium before. She loves how this style of painting requires her to to stay in the moment during the prep and actual pouring process. She loves the fact that every piece is one-of-a- kind and cannot be duplicated. Everyone sees something different in each piece and nothing is ever created with a "sale" in mind. Her only goal with her work is to make the most beautiful art she can at that time on that day.
💥Joanne can be reached at:
See some of her art on her Website – JoanneCavallaro.com
Instagram – @Joannecavallaroart