When:
February 22, 2017 @ 10:00 am – 3:00 pm
2017-02-22T10:00:00-08:00
2017-02-22T15:00:00-08:00
Where:
Communities included in tour are: Franke Tobey Jones, Narrows Glen, Merrill Gardens, Tacoma Lutheran Retirement Community and the Weatherly Inn.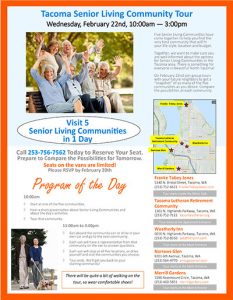 Are you thinking about moving into a retirement community but just don't know where to start looking or even what questions to ask? You might be asking yourself, "Where the heck do I begin?" If so, then the Tacoma Senior Living Community Tour might be just the thing for you.
"We've hosted this Tour five times in the past three years, and all to multiple van capacity," says Michelle Matz, Senior Director of Accommodations at Franke Tobey Jones and also a Tour event organizer. "Most of the seniors that have taken this Tour are just starting the process of looking around and seeing what communities are in the area and what they have to offer. We're excited about hosting this Tour again as we're able to provide a wide array of information, and answer questions for seniors who are thinking about moving into a senior living community. We'll also provide the opportunity to tour at least one or two apartments at each community, and this is very helpful for seniors to see first-hand."
The Five-Community Tour will be hosted on February 22nd from 10:00 a.m. to 3:00 p.m. The participating communities include: Franke Tobey Jones, Merrill Gardens, Narrows Glen, Tacoma Lutheran Retirement Community and The Weatherly Inn. "Together, we want to make sure you are well informed about the options for Senior Living Communities in the Tacoma area, says Linda Lee, Community Relations Director at the Tacoma Merrill Gardens, and one of the Tour organizers. "We want to help seniors find the very best community that will fit their wants, needs, desires, location and budget."
On February 22 join group tours with your future neighbors to get a "snapshot" of as many of the five communities as you desire. Either RSVP to reserve a seat on one of the community vans, or drive yourself and start at any of the five communities listed above. Compare the possibilities at each community. To be on one of the vans you must RSVP by February 17th by calling 253-756-7562.
The program of the day is as follows:
10:00am
Start at one of the five communities.
Hear a short presentation about Senior Living Communities and about today's activities.
Tour that community.
11am to 3pm
Get aboard the community van or drive in your own car and go to the next community.
Each van will have a representative from that community on the van to answer questions.
Each van will stop at all five locations, or drive yourself and visit the communities you choose.
Tour ends. We'll get you back to your starting community!
"At the end of each of the previous five tours the participants are hugging us and thanking us and so appreciative of all the information," says Ms. Matz. "It's really gratifying knowing that we are providing seniors with information and options that will help them make a decision about moving to a senior living community."
For more information or to RSVP please call 253-756-7562 by Friday, February 17th to reserve your place on the Tour and/or van. Transportation services are limited so RSVP today!