When:
2020-10-30T00:00:00-07:00
2020-10-31T00:00:00-07:00
Where:
Douglas County Fairgrounds
2110 Frear St
Roseburg
OR 97471

Contact:
Tamara Howell
(541) 957-4896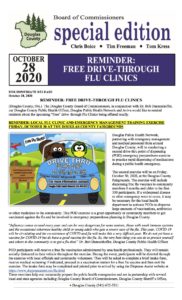 The exercise will include dispensing free flu vaccines to community members 6 months and older to the first 300 participants. If a widespread disease or other emergency were to occur, it may be necessary for the local health department to activate PODs to dispense large amounts of vaccinations, antibiotics or other medicines to the community. This POD exercise is a great opportunity or community members to get vaccinated against the flu and be involved in emergency preparedness planning in Douglas County.