When:
February 9, 2017 @ 1:45 pm – 3:45 pm
2017-02-09T13:45:00-08:00
2017-02-09T15:45:00-08:00
Where:
Peninsula Independent Retirement Living
3445 50th St Ct NW
Gig Harbor, WA 98335
USA

Contact:
Mary Coupland
206-321-8016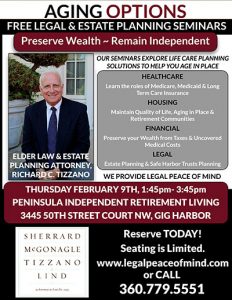 FREE (no obligation) Legal + Estate Planning Seminar
When: Thursday, Feb 9th, 1:45pm – 3:45pm
Where: Peninsula Independent Retirement Living
Richard Tizzano, is an expert in Elder Law, Estate Planning, Adult Guardianships, Personal Healthcare Crisis Management, Strategic Health Cost Risk Mitigation, and Sustainability of Care.
With 8000 Baby Boomers turning 65 every day, and more and more couples coming to his office in "crisis mode", Richard felt he had to develop a means to reach seniors and their families, to help educate them on what their options are as they approach the next chapter of their lives.
Richard's Life Care Planning seminars are designed to explore solutions to help you Age in Place, Protect Assets, and Remain Independent, providing peace of mind for you and your loved ones. He will provide a roadmap on Aging and Long Term Care.
Whether it's your journey or you are along for the ride as an advocate for someone you love, the fear of traveling this unfamiliar path can be crippling, and Richard's seminars are designed to help you take the first step onto this new road.
The good news is that the pathways are predictable . . . and because they are predictable, they can be anticipated . . . and if they can be anticipated, you can be adequately prepared.
Having the opportunity to be informed, organized and equipped will not only give you peace of mind, but give you hope and a healthy perspective for the journey.
You will find Richard's seminar insightful, humorous, and informative.
As seating is limited, please reserve your spot today at www.legalpeaceofmind.com or CALL: 360-779-5551.