When:
February 28, 2020 @ 2:00 pm – 3:00 pm
2020-02-28T14:00:00-08:00
2020-02-28T15:00:00-08:00
Where:
Heron Pointe Senior Living
504 Gwinn St E
Monmouth
OR 97361

Contact:
Nichole Elliott
503-838-6850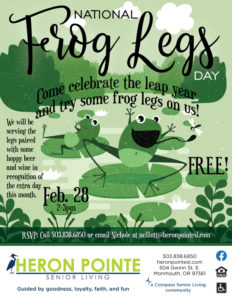 Once every four years, February gains an extra day to try and keep our calendars in sync with the solar calendar. And 2020 is one of those years, known as a leap year. The leap day itself is also another holiday – national frog legs day!
In celebration of this special event, we will be hosting a free tasting of frog legs at our community. Most people have not had a chance to try them before, but the common colloquialism is that it, "tastes like chicken." Come find out for yourself on Friday, February 28th from 2pm-3pm. We will be pairing the legs as traditionally served with white wine, as well as some hoppy beer. For those feeling slightly less adventurous, we will also be offering light snacks of the non-frog variety.
Please call us at 503.838.6850 or email Nichole at nelliott@heronpointesl.com to RSVP so we know how many legs to order. We hope to see you there!