When:
October 14, 2017 @ 6:00 pm
2017-10-14T18:00:00-07:00
2017-10-14T18:15:00-07:00
Where:
Tacoma Trade and Convention Center
1500 Broadway
Ballroom 3rd Floor, Tacoma
WA. 98402

Contact:
Nelvina Heck
253-538-8351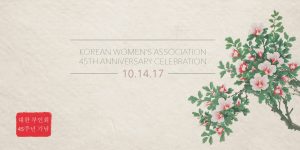 On behalf of the Korean Women's Association (KWA), I would like to invite you to the 45th Anniversary Celebration.
This event is about celebrating 45 years of great services throughout Western Washington, as well as, fundraising to expand services and capacity in South King and Pierce Counties. This celebration will take place on Saturday, October 14th, 2017 at 6 PM, at the Tacoma Trade and Convention Center:
Ballroom-3rd Floor
1500 Broadway
Tacoma, WA 98402
KWA was founded in 1972 by Korean women married to U.S. American servicemen to help those who needed support from other peers to settle down in the United States. From this humble beginning to one of the most influential nonprofit organizations in the Northwest, KWA has been growing and been reaching out to diverse communities in Western Washington by providing services to 20 different language groups, currently serving more than 12,000 clients annually today.
Here are highlights of the program at our celebration.
• Main Speakers
* Cyrus Habib (Lieutenant Governor of Washington State)
* Bob Ferguson (Attorney General of Washington State)
• KWA 45 year-timeline
• Korean Cultural Performance
• Cocktail Hours
We are expecting more than 800 guests from all walks of life. It will be a great time to celebrate and build stronger networks.
Please support this celebration by making your tax deductible donation or purchasing tickets.
For more information or purchasing tickets, visit our website by clicking the 45th Anniversary Celebration Picture below, http://www.kwacares.org/kwa45/ or email to event@kwacares.org.
I look forward to seeing you at our 45th Anniversary Celebration!