When:
May 31, 2018 @ 7:00 am – 9:00 am
2018-05-31T07:00:00-07:00
2018-05-31T09:00:00-07:00
Where:
Miramont Pointe
11520 SE Sunnyside Rd
Clackamas, OR 97015
USA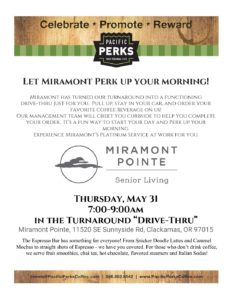 Miramont has turned our turnaround into a functioning drive-thru just for you. Pull up, stay in your car, and order your favorite coffee beverage on us!
Our management team will greet you curbside to help you complete your order. It's a fun way to start your day and Perk up your morning.
Experience Miramont's Platinum Service at work for you.
Thursday, May 31, 7:00-9:00am
in the Turnaround "Drive-Thru" Miramont Pointe, 11520 SE Sunnyside Rd, Clackamas, OR 97015
The Espresso Bar has something for everyone From Snicker Doodle Lattes and Caramel Mochas to straight shots of Espresso we have you covered!  For those of you who don't drink coffee, we serve fruit smoothies, chai tea, hot chocolate, flavored steamers, and Italian sodas.