When:
September 22, 2020 @ 7:00 pm
2020-09-22T19:00:00-07:00
2020-09-22T19:15:00-07:00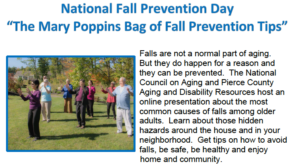 Falls are not a normal part of aging. But they do happen for a reason and they can be prevented. The National Council on Aging and Pierce County Aging and Disability Resources host an online presentation about the most common causes of falls among older adults. Learn about those hidden hazards around the house and in your neighborhood. Get tips on how to avoid falls, be safe, be healthy and enjoy home and community.
Aging & Disability Resources will host an online workshop on September 22, the first day of Fall, at 10 a.m. and 7 p.m. "The Mary Poppins Bag of Fall Prevention Tips" will be presented by Sandy Gatlin, Master Trainer and West Regional SAIL Coordinator.
The workshops are free and no registration is required. On September 22 log on: