When:
April 5, 2017 – April 26, 2017
all-day
2017-04-05T00:00:00-07:00
2017-04-27T00:00:00-07:00
Where:
BE Yoga
980 SW 6th St
Grants Pass, OR 97526
USA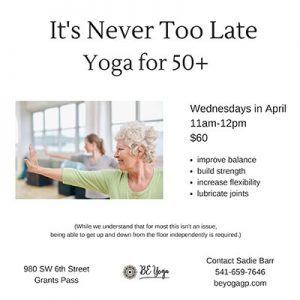 50 IS THE NEW 30 AND YOGA IS THE HOT TREND!
Extended periods of sitting lead to muscular shortening, tightening and weakening. Lack of weight-bearing activity contributes to osteoporosis. Lack of movement and stretching leads to joint deterioration and loss of flexibility. Of grave concern for our well-seasoned population is the lack of balance which stems, in part, from sitting rather than standing and from not challenging one's balance in various positions.
This 4-week course addresses all of these concerns with a gentle yoga practice that
improves balance
builds strength
increases flexibility
lubricates joints
Designed for people 50+ who are ready to give yoga a try. While we understand that for most this isn't an issue, being able to get up and down from the floor independently is required.
$60