When:
March 18, 2021 @ 6:30 pm
2021-03-18T18:30:00-07:00
2021-03-18T18:45:00-07:00
Contact:
Pierce County Aging & Disability Resources
(253) 798-4600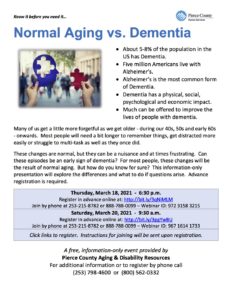 Many of us get a little more forgetful as we get older – during our 40s, 50s and early 60s – onwards. Most people will need a bit longer to remember things, get distracted more easily or struggle to multi-task as well as they once did.
These changes are normal, but they can be a nuisance and at times frustrating. Can these episodes be an early sign of dementia? For most people, these changes will be the result of normal aging. But how do you know for sure? This information-only presentation will explore the differences and what to do if questions arise. Advance registration is required.
Register in advance online at: http://bit.ly/3qNiMLM
Join by phone at 253-215-8782 or 888-788-0099 – Webinar ID: 972 3158 3215