When:
2020-07-21T00:00:00-07:00
2020-07-22T00:00:00-07:00
Where:
Vineyard Park of Puyallup
1813 S. Meridian St. Puyallup
WA 983781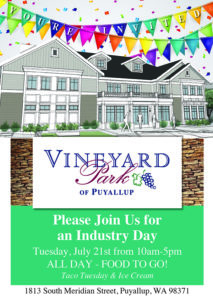 The time has finally come that we can now showcase our new beautiful Vineyard Park of Puyallup. We know that everyone is so anxious to see each other that we thought what better way than to hold an event where social distancing, masks, food and drink to go could be managed. With Covid on the rise and the need for social distancing we are asking everyone to RSVP and if possible the time you will arrive. We will have small groups so that everyone will have the opportunity to see our new community. We hope that you will join us – wear your mask and should you forget we will have our very own Vineyard Park of Puyallup Masks for your convenience.
We look forward to seeing you and sharing this great event.