When:
March 13, 2021 @ 9:30 am
2021-03-13T09:30:00-08:00
2021-03-13T09:45:00-08:00
Contact:
Pierce County Aging & Disability Resources
(253) 798-4600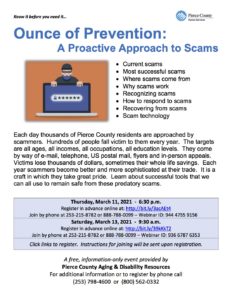 Each day thousands of Pierce County residents are approached by scammers. Hundreds of people fall victim to them every year. The targets are all ages, all incomes, all occupations, all education levels. They come by way of e-mail, telephone, US postal mail, flyers and in-person appeals. Victims lose thousands of dollars, sometimes their whole life savings. Each year scammers become better and more sophisticated at their trade. It is a craft in which they take great pride. Learn about successful tools that we can all use to remain safe from these predatory scams.
Register in advance online at: http://bit.ly/39kKkT2
Join by phone at 253-215-8782 or 888-788-0099 – Webinar ID: 936 6787 6353

View Flyer.