When:
2018-03-28T00:00:00-07:00
2018-03-29T00:00:00-07:00
Where:
Hillsboro Home Instead Senior Care
1400 NE 48th Ave Ste 1400
Hillsboro, OR 97124
USA

Contact:
Home Instead Senior Care
503-530-1527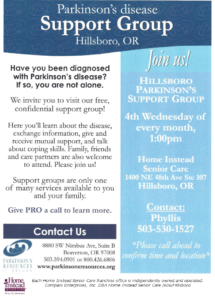 March 28th Starting at 1pm
Parkinson's Disease (PD) is a neurodegenerative disorder that affects predominately dopamine-producing neurons in a specific area of the brain called substantia nigra. The progression of symptoms vary from person to person and some of the symptoms include:
Tremors at rest
Slowness of movements
Limb rigidity
Gait and balance problems
Although there is no known cure for PD, it is possible to have a good to great quality of life with this disease. This support group will always be held at our Hillsboro Home Instead Office location every 4th Wednesday of every month at same time.
To RSVP contact Phyllis at 503-530-1527 or phyllis.peabody@homeinstead.com