When:
2018-12-05T00:00:00-08:00
2018-12-06T00:00:00-08:00
Where:
Pioneer Village
805 N 5th St
Jacksonville, OR 97530
USA

Contact:
Peggy Dunphy
541-899-6825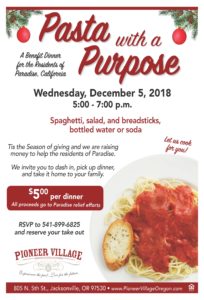 Pasta with a Purpose
A Benefit Dinner for the Residents of Paradise, California
Wednesday, December 5, 2018
5:00 – 7:00 p.m.
Spaghetti, salad, and breadsticks, with bottled water, or soda
Let us cook for you! Tis the Season of giving and we are raising money to help the residents of Paradise. We invite you to dash in, pick up dinner, and take it home to your family.
$5 per dinner
All proceeds go to Paradise relief efforts
RSVP to 541-899-6825
and reserve your take out.
https://facebook.com/events/611626342608958/
805 N. 5th St., Jacksonville, OR 97530 • www.PioneerVillageOregon.com