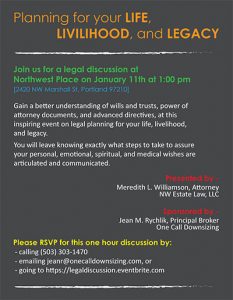 One Call Downsizing is sponsoring this free event:
Join Meredith L. Williamson, Attorney, for a legal discussion.
Gain a better understanding of wills and trusts, power of attorney documents, and advanced directives, at this inspiring event on legal planning for your life, livelihood, and legacy. You will leave knowing exactly what steps to take to assure your personal, emotional, spiritual, and medical wishes are articulated and communicated.