When:
July 16, 2020 @ 1:00 pm – 2:00 pm
2020-07-16T13:00:00-07:00
2020-07-16T14:00:00-07:00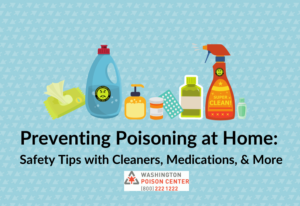 The COVID-19 pandemic has caused many changes in our daily lives. We are spending more time at home, sanitizing more often, might be distracted or stressed, and may have limited access to the people, services, and supports we previously relied on. All of these changes can lead to accidental poisonings with medications, cleaners, sanitizers, and more. Thankfully, there are easy strategies to stay safe and prevent poisoning. Join the Washington Poison Center for an overview of the risks to look out for and simple strategies to "poison proof" your home and daily routines.