When:
February 20, 2020 @ 5:00 pm – 6:00 pm
2020-02-20T17:00:00-08:00
2020-02-20T18:00:00-08:00
Where:
Pioneer Village
805 N. 5th St.
Jacksonville
OR 97530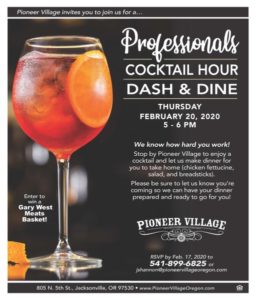 Pioneer Village invites you to join us for a…
PROFESSIONALS COCKTAIL HOUR DASH & DINE
THURSDAY, FEBRUARY 20, 2020
5 – 6 PM
We know how hard you work!
Stop by Pioneer Village to enjoy a cocktail and let us make dinner for you to take home (chicken fettuccine, salad, and bread sticks).
Please be sure to let us know you're coming so we can have your dinner prepared and ready to go for you!
Enter to win a Gary West Meats Basket!
RSVP by Feb. 17, 2020 to 541-899-6825 or
jshannon@pioneervillageoregon.com
Pioneer Village, 805 N. 5th St., Jacksonville, OR 97530 • www.PioneerVillageOregon.com