When:
May 18, 2020 @ 3:00 pm – 5:00 pm
2020-05-18T15:00:00-07:00
2020-05-18T17:00:00-07:00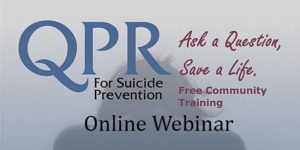 QPR stands for Question, Persuade, and Refer.
3 simple steps anyone can learn to help save a life from suicide. People trained in QPR learn how to recognize the warning signs of a suicide crisis and how to question, persuade, and refer someone at risk to get the help they need. Talking about suicide does not lead to more suicides – in fact, just the opposite is true. Research shows that talking to someone who is depressed and considering suicide most often gives that person a great sense of relief. One out of every five people will struggle with a mental health concern in any given year. While the vast majority of people in a crisis do not consider suicide, there are many that do.
In this brief training you will learn the myths and facts related to suicide, warning signs of suicide, how to ask the right questions, how to persuade someone in crisis to seek help, and how to refer them to the various resources that are available. Please join us as we work towards learning skills to assist someone in crisis.
Presented by Paige Hosford, CPS and Adam Jones, MSW, CSWA, CADCI
For questions, comments, concerns please email SuicidePrevention@Adaptoregon.org 
For more event info, Visit Here.