When:
November 8, 2018 @ 9:00 am – 12:30 pm
2018-11-08T09:00:00-08:00
2018-11-08T12:30:00-08:00
Where:
West Linn Community Center
1180 Rosemont Rd
West Linn, OR 97068
USA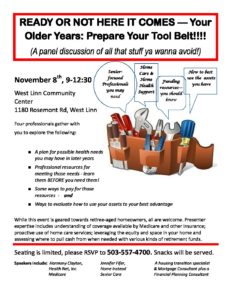 Four professionals gather with you to explore the following:
 A plan for possible health needs you may have in later years
 Professional resources for meeting those needs – learn them BEFORE you need them!
 Some ways to pay for those resources – and
 Ways to evaluate how to use your assets to your best advantage
While this event is geared towards retiree-aged homeowners, all are welcome. Presenter expertise includes understanding of coverage available by Medicare and other insurance; proactive use of home care services; leveraging the equity and space in your home and assessing where to pull cash from when needed with various kinds of retirement funds.
Seating is limited, please RSVP to 503-557-4700. Snacks will be served.
Featuring Harmony Clayton, Jennifer Fifer, A housing transition specialist Health Net, Inc Home Instead & Mortgage Consultant plus a Medicare Senior Care Financial Planning Consultant.