When:
October 8, 2020 @ 7:00 pm – 8:00 pm
2020-10-08T19:00:00-07:00
2020-10-08T20:00:00-07:00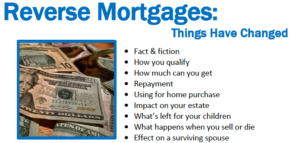 Workshop Examines Pros and Cons of Reverse Mortgages
Two things have happened in the last decade. With a strong housing market over the past several years, home prices have risen dramatically. As a result, many older adults have significant equity in their homes. At the same time, living expenses have also risen dramatically – 14 percent over the past three years.
Reverse Mortgages (also known as a Home Equity Conversion Mortgage or HECM) have been around since 1961. Early problems with the program gave Reverse Mortgages something of a black eye. Today the program is tightly regulated and has become a viable option for older adult homeowners seeking to take advantage of their equity.
"Reverse Mortgages: Things Have Changed" will survey the pros and cons to the program and who should and should not consider it. The information-only presentations will be offered.
− October 8 – 7:00 p.m.
Join Online: https://piercecountywa.zoom.us/j/94340458572
Join by Phone: 253-215-8782 or 888-788-0099; Webinar ID: 943 4045 8572
− October 10 – 10:00 a.m.
Join online: https://piercecountywa.zoom.us/j/91214406665
Join by Phone: 253-215-8782 or 888-788-0099; Webinar ID: 912 1440 6665
"There are many misconceptions around Reverse Mortgages," said Aaron Van Valkenburg, manager of Pierce County Aging and Disability Resources. "Bad experiences early on lead to a bad reputation. With time and regulation, Reverse Mortgages have become a viable financial tool for older adults who want another way to pay for long term medical expenses or care at home or in a facility. Reverse Mortgages have many more options for consumers than ever before. Homeowners should know the possibilities Reverse Mortgages offer."
A reverse mortgage is a loan available to homeowners, 62 years or older, that allows them to convert part of the equity in their homes into cash to use as they wish – short-term or long-term. The product was conceived as a means to help retirees with limited income use the accumulated wealth in their homes to cover living expenses and pay for health care.
These are impartial, information-only presentations online. No RSVP is required. Sessions are open to all. For more information about the presentations, call the Pierce County Aging and Disability Resource Center at 253-798-4600 or (800) 562-0332.