When:
January 26, 2021 @ 10:00 am – 11:00 am
2021-01-26T10:00:00-08:00
2021-01-26T11:00:00-08:00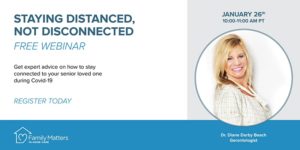 We all hear and understand the cry for social distancing given the COVID-19 public health pandemic upon us. Many of us can traverse the pandemic in our homes with the support of family and friends, and perhaps, established social media. However, for older adults, social distancing can turn into social isolation from friends, relatives, and neighbors and can be deadly. In fact, numerous studies indicate that the feelings of loneliness from social isolation foster depression, high blood pressure, anxiety, and early onset of dementia. What can you do as a family member of an elderly loved one who lives at home alone or resides in an assisted living community or skilled nursing facility? Join us for a free webinar on Tuesday, January, 26th from 10am-11am.
Reserve your spot for our free webinar today!