When:
May 11, 2020 @ 3:00 pm – 5:00 pm
2020-05-11T15:00:00-07:00
2020-05-11T17:00:00-07:00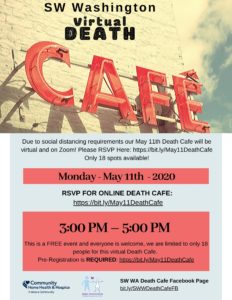 At SW Washington Death Cafe we dive right into the topic of death. "The Death Cafe model was developed by Jon Underwood and Sue Barsky Reid, based on the ideas of Bernard Crettaz," Deathcafe.com.
Come join others in a safe and relaxing environment online, since we all know we're practicing social distancing. Now more than ever it's time to talk about death and dying. IT'S IMPORTANT TO UNDERSTAND THIS IS NOT A SUPPORT GROUP!
Death Cafe is a growing international movement and nonprofit. Conversation about whatever is on your mind regarding death takes place in small groups or in one circle, depending on the size of the group.
"Our objective is 'to increase awareness of death with a view to helping people make the most of their (finite) lives'."
– DeathCafe.com
We promptly start 3pm. Please treat this like our regular Death Cafes; make a cup of coffee or tea and a special treat if you'd like! We'll still be noshing on food while talking via Zoom!
You will receive an email with the meeting ID and Password from meaganhope@gmail.com! SW Washington Death Cafe is in partnership (co-facilitate) with Community Home Health & Hospice!