When:
February 18, 2021 @ 6:30 pm
2021-02-18T18:30:00-08:00
2021-02-18T18:45:00-08:00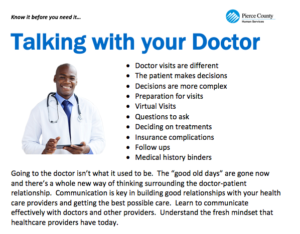 Going to the doctor isn't what it used to be.  The "good old days" are gone now and there's a whole new way of thinking surrounding the doctor-patient relationship.  Communication is key in building good relationships with your health care providers and getting the best possible care.  Learn to communicate effectively with doctors and other providers.  Understand the fresh mindset that healthcare providers have today.
Register in advance online at:  http://bit.ly/2LdOuD1
Join by phone at 253-215-8782 or 888-788-0099 – Webinar ID:  913 2484 5538