When:
November 13, 2019 @ 6:00 pm – 7:00 pm
2019-11-13T18:00:00-08:00
2019-11-13T19:00:00-08:00
Where:
Farmington Square Eugene
2730 Bailey Ave
Eugene OR 97401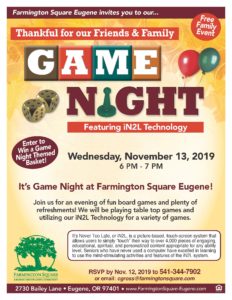 Farmington Square Eugene invites you to our free family event, Thankful for our Friends & Family Game Night – featuring iN2L Technology!
Wednesday, November 13, 2019
6 PM – 7 PM
It's Game Night at Farmington Square Eugene! Join us for an evening of fun board games and plenty of refreshments! We will be playing table top games and utilizing our iN2L Technology for a variety of games.
It's Never Too Late, or iN2L, is a picture-based, touch-screen system that allows users to simply "touch" their way to over 4,000 pieces of engaging, educational, spiritual, and personalized content appropriate for any ability level. Seniors who have never used a computer have excelled in learning to use the mind-stimulating activities and features of the iN2L system.
Enter to Win a Game Night Themed Basket!
RSVP by Nov. 12, 2019 to 541-344-7902
or email: cgross@farmingtonsquare.com
2730 Bailey Lane • Eugene, OR 97401 • www.FarmingtonSquare-Eugene.com