When:
May 28, 2020 @ 11:00 am – 11:45 am
2020-05-28T11:00:00-07:00
2020-05-28T11:45:00-07:00
Where:
Online Event
See registration below
Contact:
Koelsch Communities
360.867.1900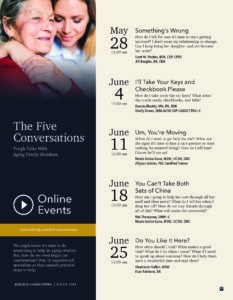 The Five Conversations: Tough Talks with Aging Family Members
We might know it's to time to do something to help an aging relative. But, how do we even begin the conversation? Join 10 experienced specialists – many of whom have experienced these conversations with their own family members – as they unpack practical steps to helps.
Register – Full Series: https://koelschliving.com/five-conversations
Conversation #1: Something's wrong!
Thursday, May 28 | 11 am PST
How do I tell for sure it's time to start getting involved? I don't want my relationship to change. Can I keep being her daughter and not become her mom?
Scott M. Fischer, BSN, CDP, CPRS
Jill Beagles, BA, CNA
Conversation #2: I'll take your keys and checkbook please.
Thursday, June 4 | 11 am PST
How do I take away the car keys? What about the credit cards, checkbooks, and bills?
Bonnie Blachly, MN, RN, BSN
Shelly Drews, MBA ALFM CDP CADDCT PAC~C
Conversation #3: Um, you're moving.
Thursday, June 11 | 11 am PST
When do I need to get help for dad? What are the signs it's time to hire a care partner or start looking for assisted living? How do I tell him? I know he'll say no!
Nicole Amico Kane, MSW, LICSW, CMC
Allyson Schrier, PAC Certified Trainer
Conversation #4: You can't take both sets of china!
Thursday, June 18 | 11 am PST
How am I going to help her sort through all her stuff and then move? What do I tell her when I drop her off? How do we stay friends through all of this? What will make this successful?
Mai Thompson, SMM~C
Nicole Amico Kane, MSW, LICSW, CMC
Conversation #5: Do you like it here?
Thursday, June 25 | 11 am PST
How often should I visit? What makes a good visit? What do I do when I come? What if I need to speak up about concerns? How do I help them have a wonderful time and stay close?
Stephanie Fialkin, MSW
Evan Fairborn, BA
Register – Full Series: https://koelschliving.com/five-conversations