When:
November 5, 2019 – November 14, 2019
all-day
2019-11-05T00:00:00-08:00
2019-11-15T00:00:00-08:00
Contact:
Natascha Cronin
503-378-6303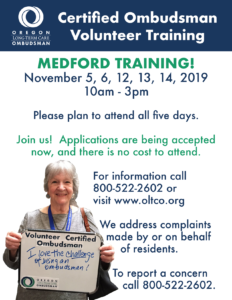 A five-day training to become a volunteer Certified Ombudsman. Ombudsman are advocates for your family, friends, and neighbors living in Nursing Homes, Memory Care, Assisted Living and Adult Foster homes. Become someone who can help be a problem solver and advocate for many who cannot speak for themselves. Call the office at 503-378-6303 for more information or to apply. To attend the training, an application must be submitted, an interview conducted, and a criminal background check completed. Applications due before October 18, 2019.
Location of Training: Medford, OR
Dates: November 5, 6, 12, 13, 14, 2019
Time: 10AM – 3PM