When:
September 2, 2020 @ 2:00 pm – 3:30 pm
2020-09-02T14:00:00-07:00
2020-09-02T15:30:00-07:00
Contact:
Alise LIepnieks
503-782-4868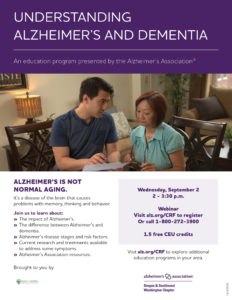 An education program by the Alzheimer's Association
ALZHEIMER'S IS NOT
NORMAL AGING.
It's a disease of the brain that causes
problems with memory, thinking and behavior.
Join us to learn about:
»The impact of Alzheimer's.
» The difference between Alzheimer's and
dementia.
» Alzheimer's disease stages and risk factors.
» Current research and treatments available
to address some symptoms.
» Alzheimer's Association resources.
All classes are free. Please call 800-272-3900 to register or visit alz.org/CRF.