When:
October 22, 2020 @ 11:00 am – 12:30 pm
2020-10-22T11:00:00-07:00
2020-10-22T12:30:00-07:00
Contact:
Alise Liepnieks
503-782-4868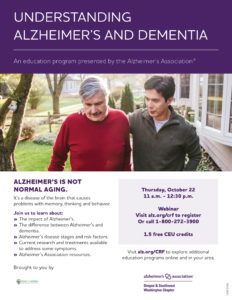 An education program by the Alzheimer's Association
ALZHEIMER'S IS NOT NORMAL AGING.
It's a disease of the brain that causes problems with memory, thinking and behavior.
Join us to learn about:
»The impact of Alzheimer's.
» The difference between Alzheimer's and
dementia.
» Alzheimer's disease stages and risk factors.
» Current research and treatments available
to address some symptoms.
» Alzheimer's Association resources.
All classes are free. Please call 800-272-3900 to register or visit alz.org/CRF.
In partnership with Oregon Care Partners. Please ensure you are adhering to the standards and guidelines laid out by the Governor and DHS by practicing social distancing and avoid viewing webinars in groups.
1.5 Free CEU's for Oregon residents only.